Welcome To Vandenbossche Farms
Our family farm has been providing beautiful flowers, fresh produce and friendly customer service to all our visitors for almost 90 years
Quality and Value
Our loyal customers have been coming to our farm for their plants and produce for generations. We take pride in providing high quality products for fair and reasonable prices.
Stop in and see us our large assortment of seasonal products:
Annuals
Perennials
Hanging Baskets
Vegetable Plants
Fruit Trees
Peppers of all kinds
Pumpkins, gourds, squash
Triple Sweet Corn
Many more fresh vegetables
Spring Is Finally Here!
The new sales house and greenhouses are now open!!!
It's time to get the flower beds blooming and the garden going.
We have all the flowers you need to bring out the color - at great prices.
Come in and pick from our large selection of flowers and vegetable plants!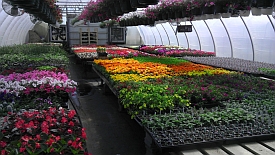 Things are blooming!