Fall Season at Vandenbossche Farms
We offer all the Fall plants and Halloween decorating items to usher in the Fall season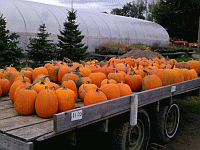 We have a large selection of colorful hearty garden mums to adorn your porch and fall planters.
We grow a large assortment of pumpkins such as the standard jack-o-lantern, fairytale, jarradale, pie, and white.
We also have a large assortment of winter squash. Acorn, Butternut, Buttercup, Sweet Dumpling, Blue Hubbard, and Spaghetti Squash.
We have 9 different types of Gourds - Apple gourds, Swan, Bottle, Turks Turban, Jack-be-little, Baby-Boos, and many more.
You can also complete that Halloween party decorating with our Straw, Cornstalks and most important - apples for bobbing.